The Gods Drink Whiskey: Stumbling Toward Enlightenment in the Land of the Tattered Buddha, by Stephen T. Asma (2005). See it at Amazon.com.
Before I left the U.S. to go traveling in Cambodia this summer, I searched and asked around for recommendations for non-history books, not travel guidebooks, about Cambodia. A lot of titles came my way, but nothing seemed suitable for reading on buses and boats, at bedtime in third-rate hotels, etc. A novel would have been acceptable, if it promised me the real flavor of the country, but I couldn't find one that seemed right.
I'm not sure exactly how this book came to my attention, but I'm very glad it did. It not only suited me perfectly while I was experiencing Cambodia for two weeks in May; I liked it so much I read it twice. I'm prepared to recommend it to anyone who is thinking about going to Cambodia.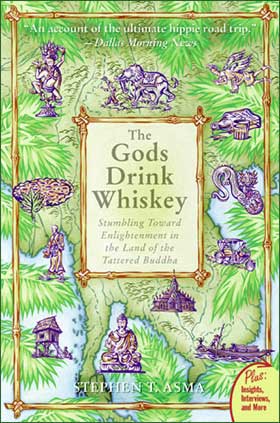 Stephen T. Asma is an American college professor who was invited to the Buddhist Institute in Phnom Penh, the capital of Cambodia, to teach a philosophy of Buddhism course to graduate students there. And if you wonder how and why a non-Asian, American guy got into a position of teaching Buddhism to Asians in a Buddhist country — well, suffice to say that after you have read the book, you'll probably feel fine about that. Continue reading →