How to Partition Hard Drive or Disk in Windows Vista?

Partitioning a hard disk/ drive or creating a hard disk partition in windows vista using the disk managementutility is quite simple.However you must have administrator privileges to partition the hard drive/disk.Also you can do the partition in windows vista, using the disk management utility, only if the drive or volume to be partitioned is in NTFS format or it is unformatted RAW. This approach to partition a hard disk/drive in windows vista is also recommended only on a hard disk or drive, with no bad sectors.It is also recommended to partition only a hard disk /drive that has enough space available to shrink as some of thevista operating system files, that are used by the windows vista operating system (OS), like page files or shadow copy storage area cannot be relocated.

How to partition a drive in windows vista?
Log on as administrator
Go to Control Panel –> System and Maintenance –> Administrative Tools
Choose Computer Management –> Disk Management
Choose the Drive to partition for eg: Drive C
Right Click and choose Shrink Volume. Windows vista will first calculate the maximum space that can be freed. You can then manually edit the amount of space to shrink by changing the value in the textbox labelled "Enter the amount of space to shrink in MB". However the amount of space to shrink cannot be greater than the size of available shrink space and available shrink space can be restricted if snapshots or pagefiles enabled on the volume or drive.
Click the "Shrink" button to shrink the disk space
Upon shrinking the drive, in our case C:, you will see the "unallocated space" in your disk management utility
Right Click the new unallocated space and select "New Simple Volume". A "New simple volume" wizard will open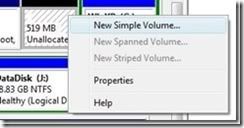 Click 'Next' to continue
You will be prompted to choose a volume size that is between the minimum and maximum disk space values
Choose an appropriate value for your new partition and click "NEXT"
Assign a drive letter to your new partition created out of the unallocated space and click "NEXT"
Format the partition as NTFS.You can either choose the "Allocation unit size" as Defaultor change it.
Type in a name in the Volume Label text box and Click "NEXT"
click "Finish"

That is all folks. You would have successfully partitioned the hard drive in windows vista, upon completing the above steps.Vista would have formatted your newly-created partition inside the Disk Managementconsole.you can see your newly-created partition in "My Computer" available to read and write to.
*Original post http://techblissonline.com/vista-partition-drive-disk-volume/