នៅពេល​នេះ​អ្នក​អាច​អាន​ភាសា​ខ្មែរ​នៅ​លើ​អាយ​ហ្វូន, អាយភែត និង​អាយ​ផត​ របស់​អ្នក​ដោយ​មិន​ចាំ​បាច់​បំបែក​កូត​សូហ្វវែរ៍​របស់​វា​ឡើយ។ ក្រុម​អ្នក​បច្ចេក​ទេស​ខ្មែរ​មួយ​ដែល​មាន​ឈ្មោះ​ថា 4Khmeriphoneteamបាន​បង្កើត​សូហ្វវែរ៍​ពុម្ព​អក្សរ​យូនីកូដ​ខ្មែរ​ដែល​អ្នក​អាច​តម្លើង​នៅ​ក្នុង​ឧបករណ៍​របស់​អ្នក​។ សូម​ធ្វើ​តាម​ការ​ណែនាំ​ដូច​ខាង​ក្រោម៖ (How to install Khmer Unicode on your iDevice) ១. ទាញ​យក​ពុម្ព​អក្សរ (Download font) ពុម្ព​អក្សរ បាត់​ដំបង  (Battambang Khmer Unicode) ២. វិធី​តម្លើង (Installation) - ចុច install - ចុច install Now អ្នក​អាច​អាន​ខ្មែរ​លើ​ឧបករណ៍​របស់​អ្នក​បាន​ជា​ស្រេច។ ប្រសិន​បើ​វា​មិន​ដំណើរ​ការ​ទេ អ្នក​ត្រូវ​បិទ​ឧបករណ៍​នោះ, ហើយ​បើក​វា​ឡើងវិញ​ (Now your iDevice can read Khmer perfectly; if not you need to restart your device)  *ប្រសិន​បើ​អ្នក​ចង់​ដក​សូហ្វវែរ៍​នេះ​, អ្នក​ត្រូវ (How to remove this font) ១. ចូលទៅ Settings —> ...
ចំណងជើង៖ ឋានសួគ៌សម្រាប់​មនុស្ស​ល្អ (Anyone Can Go to Heaven, Just Be Good) អ្នកនិពន្ធ៖ ធី.​វ៉ាយ លី បោះពុម្ព៖ ២០១១
Date: 3/9/2013 Time: 1730 - 1900 Venue: CKS Conference Hall Wat Damnak Siem Reap Please Confirm attendance by 2/9/2013 Email: sreypich@khmerstudies.org or call  063 964 385 Abstract: This presentation will  trace the history of the Catholic Church in Cambodia and examines its efforts of rebuilding since its return to the country in the 1990s. A special focus is on the Cambodian Catholic Church's relations and attitudes toward Khmer and ethnic ...
Public Lecture on A Desire to Govern: Khmer Rouge Removals of Khmer Krom to Democratic Kampuchea, 1975-78 by Philip TAYLOR Tuesday 27th August 2013, 7pm At the Metahouse 37 Blvd Samdach Sothearos ភ្នំពេញ, +855 23 224 140 PHNOM PENH The talk will be given in english Presenter: Philip Taylor,Australian National University Abstract:   While the Khmer Rouge regime has been the subject of much documentation and analysis, little is known about ...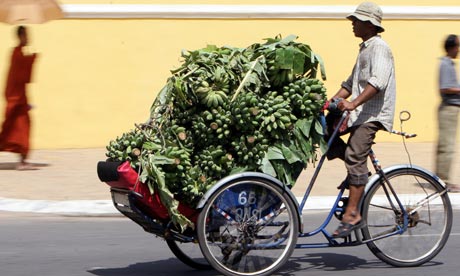 Call for Presentations 2013 Annual Symposium: "Cambodia Tomorrow: Development Research Priorities for a Middle-Income Country" 17-18 September 2013 at Hotel Cambodiana, Phnom Penh Symposium Theme The annual Research Symposium, established since 2008, is a key activity of the Development Research Forum (DRF). It is organised by a partnership of the Cambodia Development Resource Institute (CDRI), Cambodian Economic Association (CEA), Learning ...
  The 2013 Youth Summit is an event championed by the Junior Professional Associates (JPA) Program in collaboration with other units at The World Bank Group (WBG), held on October 3, 2013. The theme for the event is "Youth Entrepreneurship: Cultivating an innovative spirit to alleviate global youth unemployment". The summit will feature notable panelists of the development community, and ...
The Institute for Peace and Democracy (IPD), collaborates with Indonesian Ministry of Foreign Affairs, Australian Aid for International Development (AusAID), Australian Labor International (ALI) and Centre for Democratic Institutions (CDI),is holding the second Asia-Pacific Political Leadership Program (APLP2). The session is to be held at IPD headquarters in Bali, Indonesia on 25 September – 2 October ...
Overseas applicants to APU Graduate Schools who meet certain criteria can apply for the scholarships listed below. (September 2014 intake ONLY). Please read the information contained in this document carefully and apply for the appropriate scholarship(s). This document should be read in addition to the Admissions Handbook for APU Graduate Schools. Details